When and where do departments hold lectures?
Morning or late classes, departments with or without homes, North or South campuses, and more.
↓ Jump to visualization
Have you wondered why you always seem to have lectures at 8 a.m every morning in Broad Art Center or Bunche Hall while your roommates get to sleep in until noon? It turns out there are patterns that determine when and where departments schedule their classes. The class schedules we used were scraped from the UCLA Registrar archives and included all classes held between Fall 2012 to Winter 2017.
Where are the classes located for my department?
Pick a department to see the geographic distribution of that department's classes.
Each box displays the percent of classes that are held in the corresponding building, and you can click on it to see a more detailed breakdown, including a number that takes class size into account. (Note: Buildings that account for less than 1 percent of the total are excluded.)

The red circle indicates the weighed average location for that particular department.
Some departments, like Design | Media Arts have almost all of their classes concentrated in one building, while others like the statistics department resembles a diaspora that has no particular buildings to call home. (More on this later in the post.) The GE cluster classes in particular have a weighted center in the middle of "nowhere," as around half of them are on the Hill and the other half are on campus.
How spread out are departments?
Some departments hold lectures in many buildings scattered around campus while others are concentrated in two or three buildings. For each department, we calculated the percent of classes that took place in its three most common buildings. This type of analysis is sometimes used by economists to detect whether an industry is monopolized by a few companies.
Most Concentrated Departments
Departments Without Homes
How North or South Campus is my department?
Using the latitude (ie. vertical) values of each department's center, we can now rank departments based on how North or South Campus they are. We also convert the latitudes into distances from Bruin Walk (in meters), which we use as a dividing line.
Note: In case you're wondering why your favorite department isn't on the list, we included only the 40 largest departments (by number of students) in the following tables.
Most South Campus Departments
Most North Campus Departments
As we can see, related departments tend to be clustered together geographically. The furthest South Campus departments are in the biological sciences, followed by engineering and then the other sciences. Interestingly enough, the music department is slightly on the South Campus side because of the location of Schoenberg Music Building. Furthest north are the visual and performing arts, followed by social sciences and finally, the language departments.
When are the classes for my department held?
Scheduling patterns are also evident in when classes are held. Let's take a look at how many student-hours in total are spent in each hour period. (For example, if 100 students are in a class that lasts 30 minutes, then 50 student-hours are counted.) The "average" time is also labeled and it provides a rough summary of each distribution.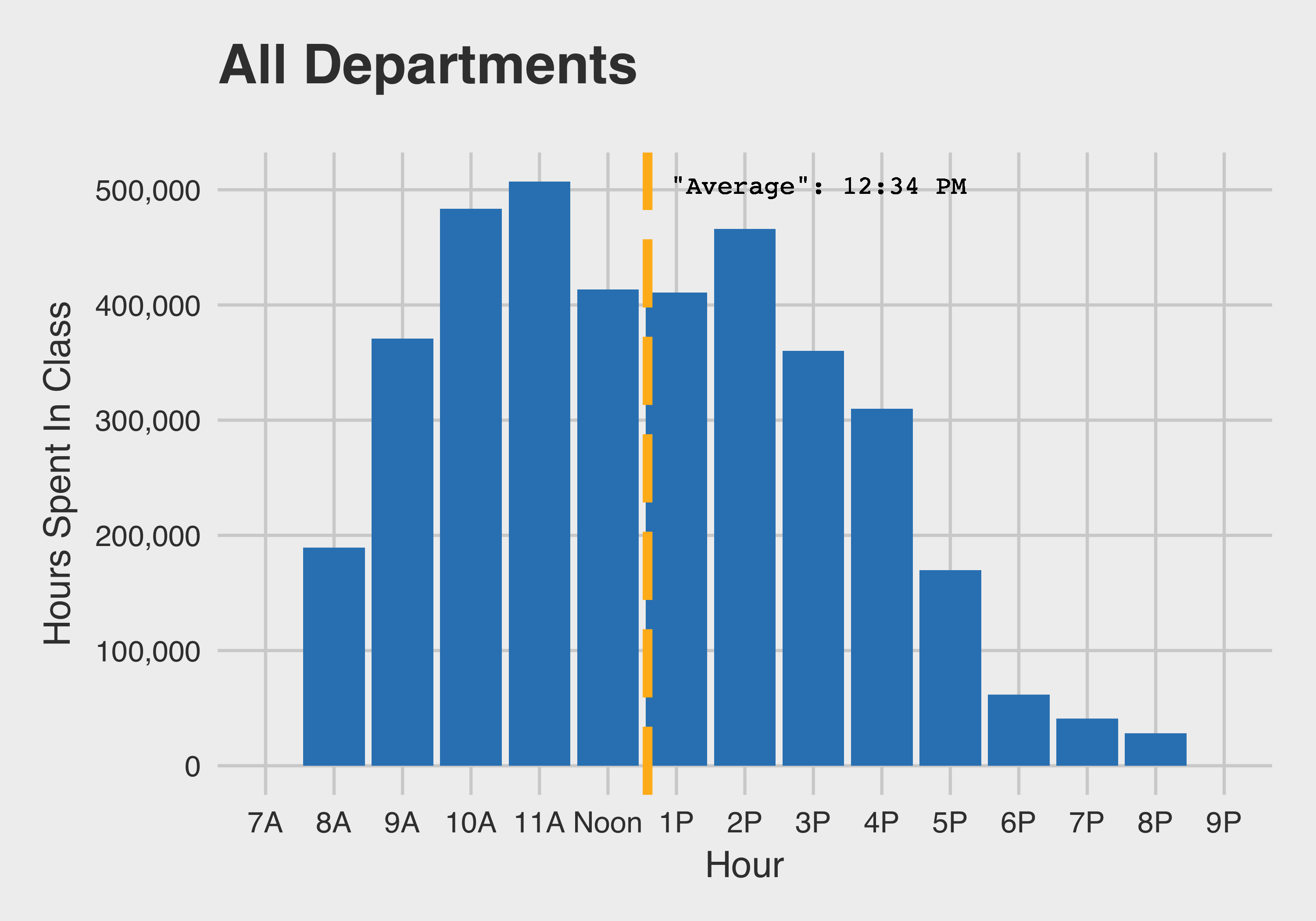 Pick a department to see its hourly distribution.
A few interesting patterns:
Some departments with earliest class times include: Music History, Program in Computing, Chemistry and Biochemistry, Spanish, Mathematics, and Life Sciences.
Some departments with latest class times include: Communication Studies, Film and Television, Chemical Engineering, Management, Political Science, and Gender Studies.